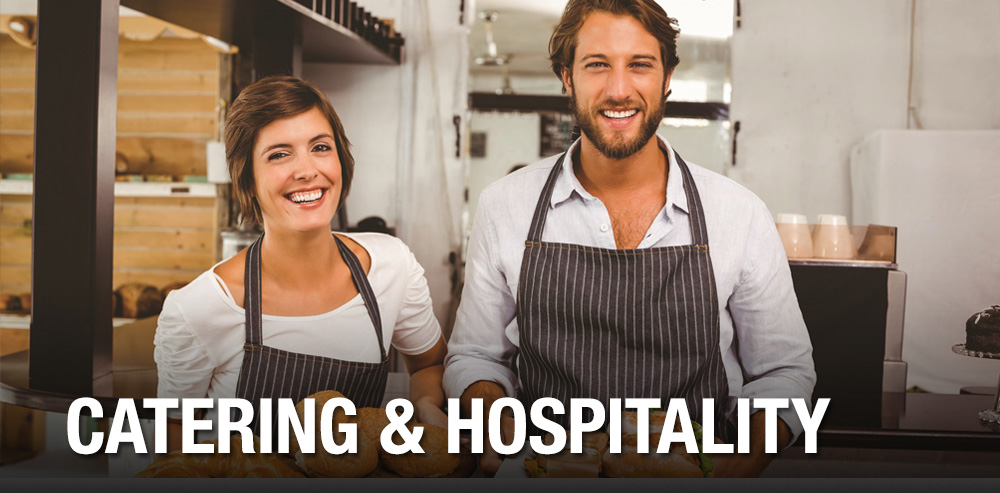 LOOK PROFESSIONAL, GET NOTICED
Every time a customer walks through your door is an opportunity to impress and build customer loyalty. Customised uniforms and branded apparel help to create a professional appearance, leaving a positive impression with customers. Our specialists are on site to help you develop, manufacture and deliver your unique range, from front-of-house to the kitchen and beyond.
CUSTOM UNIFORM SPECIALISTS
We use long lasting printing and embroidery techniques, providing a high quality finish that won't give up after few washes. Come and visit us in store to sample the various ways we can customise your uniform. We supply clothing from leading brands such as Premier and Denny'.
GET PERSONAL
Providing your staff with customised uniforms helps them take pride in their work and being a part of your team. Uniforms, badges and name tags can also make staff easily identifiable to customers, reinforcing their roles and responsibilities around the workplace.
From polos to chef's jackets, aprons to tea towels, it's easy to bring a sense of unity to your workplace. Our experts are on hand to guide you with recommendations, industry specific advice and a huge range of products to suit your budget. Unlike online companies, our showroom full of samples allows you to see exactly what you're buying, so you won't be disappointed with what you receive.
This is the best business to deal with. Good quality, good service.
I would ask all restaurants to use them
— Fabio, Al Forno Kingston
Custom Merchandise and Personalised Clothing for your business.
We supply bespoke custom merchandise and clothing to catering, restaurants, pubs, food trucks and more. We have an extensive product range designed to suit all company budgets and sizes, and our experts are on hand to help with all of your promotional needs.
Visit us at our showroom in Chessington to discuss your uniforms, in-house merchandise and more. Our one-on-one service starts by establishing your needs and restrictions, before finding the perfect solution.

With our innovative ideas and huge range of quality products, we'll be sure you make the right impression and stand out from the crowd.
Get in touch with us today